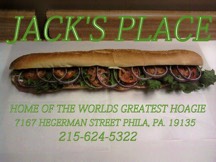 Link

Link

Link

Link

Link

Link

Link

Link
Jacks are by far the BEST in Philadelphia, I am so glad I live so close and get them monthly, the roll is GREAT, . just a note when they run outta rolls, they close for the day, so order early!
Gary C. Review from Yelp
Best hoagie, best owner, best soups. I LOVE this place, and wish I lived closer. The spread is amazing, and the careful attention to detail gives them the extra star. Amazing.
Thad S. Review from Yelp

Home of the
BEST HOAGIE IN THE FREE WORLD
and much, much more!

Free Delivery ($10.00 min.)